Smarter Tyres
At Volvo Cars, we want our partners and suppliers to be committed to safety, quality and the environment, just like we are. Even better if they're also innovative and find new ways to make things safer and better. Like Pirelli, the tyre manufacturer that breaks new ground with intensive research and development.
Pirelli is one of the leading manufacturers of high-end performance tyres and a supplier of premium tyres for Volvo cars. The company has been active since 1872 and combines its proud heritage with a keen focus on research and development. Today, Pirelli employs about 1,200 full-time researchers and works together with external agencies, universities and premium car makers in hundreds of development projects.
Pirelli focuses on finding ways to increase safety and performance while also lowering the environmental impact. For example, it looks into how new kinds of silica compounds can improve the wet grip while also reducing rolling resistance, lowering both fuel consumption and CO2 emissions. And how tyres can be engineered to weigh less, last longer and be recycled more effectively. And how new materials can be used, such as renewable biomaterials, or new kinds of natural rubber that are not sourced from rubber plants.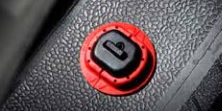 The tyre that talks to the car
One of Pirelli's innovation projects is the Cyber Tyre – the intelligent tyre that can read the road and warn of trouble ahead. The tyre has an embedded sensor that conveys vital information to the driver and to the car's electronic systems. The sensor assesses the road grip, analysing if the road is wet, dry or icy, and even the type of asphalt. It measures temperature, pressure and tyre wear. It calculates the speed that can be kept before aquaplaning occurs, as well as how much grip is available before the car starts to skid. In this way, real-time information about changing road conditions can help the car's control systems to react immediately against any impending hazards.
Using rice to make tyres
Silica is used in tyres to reduce rolling resistance and to provide a good grip in wet conditions. In its search for new, more sustainable materials, Pirelli has developed a technique for extracting silica from rice husks. These husks protect the grain of rice like a skin. As a by-product, the husks are often discarded.
The ingenious thing about this is that rice husks contain not only silica, but also the energy needed to extract it. Traditionally, producing silica involves elaborate processes treating silica sand with caustic soda and sulphuric acid, and requires huge amounts of energy. Instead, by a carefully controlled burning process of the rice husks, Pirelli can produce silica without any external combustion source and with 100% renewable energy. A smart solution from an innovative company that – just like Volvo – is committed to reducing its carbon footprint and to using resources more efficiently.